Chapter 3

First steps in RStudio

When you start RStudio on your machine you will see the IDE (integrated development environment).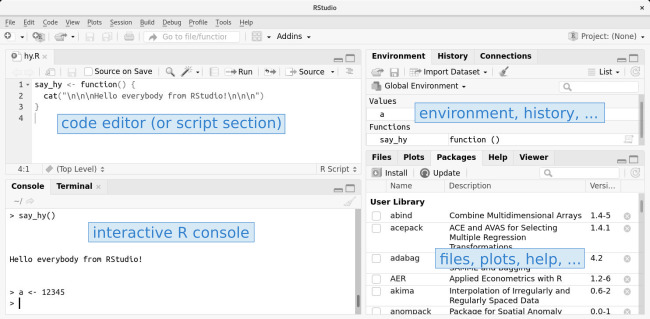 The interface consists of a code editor ("text" editor; top left), the R command line (bottom left), a summary of your current workspace (might be empty; shows all objects defined in the current R session; top right) and access to plots, help pages, and packages (bottom right).
Code editor: The code editor, or script section, is used to write scripts (programs).
R console: This is where the magic happens. The R console is interactive, we can directly enter and execute commands here, or we write our script in the code editor and "Run" the script which will then be executed "line-by-line" in the R console (shown later). You will see the output of your script down here (results, warnings, error messages, …).
Envornment/history: Shows all objects defined on your current "workspace". If you just installed R right now, this part should be empty. Furthermore, the "history" tab allows you to see the last commands you executed.
Files, plots, help: This area is used to show files, plots (if we plot something), or show links to help and manual pages. We will come back to this, soon.